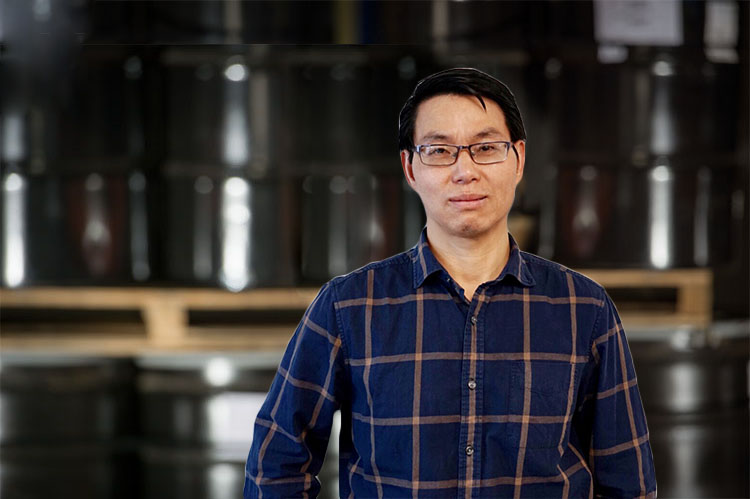 Globe Metal is a top metal recycling partner for many companies as we constantly strive to provide better services and to meet changing recycling demands from different industries. We understand the importance of a solid and in-depth metal knowledge in performing quality control of materials and in creating customized products to satisfy each customer's needs. That's why Globe Metal has an in-house Senior Metallurgist, Frank Ling.
Joining Globe Metal
Working as a senior metallurgist for Avera S.A in France for over five years, Frank and his family wanted to relocate back to North America. After returning to Canada, Frank began taking on a variety of contracts in the mining industry within Canada and overseas working on operations and processes of extracting metals from minerals. Always open to opportunities, Frank's profile caught the eye of Doug Veitch, our COO and a driving force in guiding the growth and expansion of Globe Metal.
Finding a senior metallurgist was always a part of the company's development plan. After a few interviews with Doug, Frank was enthusiastically brought on board. With over twenty years of experience in Asia, Africa, South-East Asia, and Europe, Frank has held a wide range of senior positions ranging from plant manager, project manager, lab manager, and chief metallurgist. Frank's international experience and a solid background in metal extraction and processing is an invaluable asset to Globe Metal. His knowledge of metal chemistry and the development of secondary metal materials is going to bring a lot of value when we buy and sell recycled metals, and at the same time open up new markets and different networks for the company.
Responsibilities – Always generating added value
Reporting directly to Doug Veitch, Frank has a number of critical duties at Globe Metal. The first one is quality control (QC), making sure inbound and outbound materials are correctly reported for their composition and quality. An integral part of quality control is creating standard operating procedures to make sure that all material specifications are complied, recorded, and reported accurately. Working closely with the warehouse staff, "checking the processes, procedures of our secondary materials are vital for clients in the supply chain. Diligent QC ensures the composition and quality for the client. A simple error like not fully inspecting a large shipment for the accurate composition of all materials can cause a client hundreds of thousands of dollars in penalties at a smelter, for example," says Frank. "We make sure that all the secondary materials we ship perform as specified with tested and reported accurate compositions; we are always making sure we are generating added value," says Ling.
The second function that Frank assumes is to provide technical support to the whole sales team. Frank will sit in on the sales team meeting to make sure his finger is on the pulse of the sales staff to understand their inbound and outbound shipments, customers, and suppliers. He is also involved in sales and works his pre-existing network to generate opportunities for the company.
Franks third core responsibility is in the area of research and development. "We are working on generating customized special products to meet and satisfy our customer's demands. We are looking to generate for existing and new niche markets new materials," says Ling. As part of R&D, Frank is working on the preparation of equipment and processing to provide an easy segregation of metals, which, again, is really the one real principal mandate — providing added value to the client. There really are not many places at Globe Metal that Frank does not touch and influence. He also oversees the quality and specs of materials sold on our Marketplace.
Opportunities and Challenges
Frank comes from a very traditional background in metallurgy in the domains of large engineering projects and manufacturing. "This kind of metal recycling industry is very new, but at the same time for me, it is very full of opportunity. Not only has China closed its doors to accepting recycled scrap metals, but a lot of other Asian countries have made it a part of their government policy. If we look at the history of Globe Metal in the last few years and how fast it has grown, and the challenges and opportunities that face us, Globe Metal is going to be playing a big role because of its solid standing and position to expand," says Ling.
One of the biggest challenges that Frank faces is working his network to generate sales. "It's personally very challenging for me, because working in China, one faces cultural barriers, and I have never done this kind of work in my career. But at Globe Metal there is a culture where everyone gets involved and works their networks."
With a smile on his face, there is no doubt Frank is up for the challenge.
No matter where you are located, contact our team at Globe Metal for a free consultation with our expert staff. Globe Metal currently ships materials from and to over 25 countries in the world. We can arrange for a pick-up of your industrial scrap metals of various kinds, even powder or sludge, at your location.
Read also: