Globe Metal – Certified Ingot Production
We supply a variety of certified ingot for various industries including additive manufacturing, automotive aftermarket, consumer, power generation, oil and gas, and electronics.
With our excellent global sourcing capabilities, we are able to purchase scrap alloys and single elements to produce many products including copper alloys, nickel based super alloys, single crystal alloys with hafnium and rhenium, cobalt alloys, and specialty aluminum alloys. The list of elements that we regularly purchase in pure form and in alloy form include aluminum, cobalt, copper, nickel, molybdenum, hafnium, rhenium, tungsten, niobium, tantalum, titanium, and many others.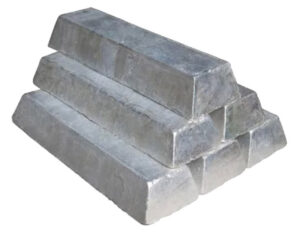 We stock certain raw materials and others we buy as needed. Once we have the required feedstock in house, we send the batch of materials to a melt shop that is qualified for each product and has the highest quality for the respective alloy that will be manufactured.  In addition to scrap alloys and single elements, occasionally we require virgin elements to add to achieve the final melt chemistry.  The melt shop produces the ingot for us according to our specifications, and then we bring the product back to our warehouse for final quality control, and repacking to meet our customer requirements.
We Offer Competitive Prices
Thanks to our 40-year history in metals recycling, we know the market like the back of our hands. We have the knowledge to give you the best price per pound for your material. Talk to a buyer now. Complete the form above.
We Simplify The Recycling Process
At Globe Metal®, we break down our customer experience into three simple steps: 1) You call for an estimate. 2) We arrange pickup of your material. 3) We send you a check after recycling your materials.
We're Global
Based in Montreal, we are among the worldwide leaders in recycling in Canada and around the world, representing a large market share for metals across the U.S. We also have a significant buyer and seller base worldwide. Schedule a shipment.
We'll Help You Manage Your Materials
Globe Metal® will provide you with new U.N. rated drums to store your spent catalyst; our waste management materials meet all regulatory specifications. We'll also send you certificates of responsible recycling for government agencies.