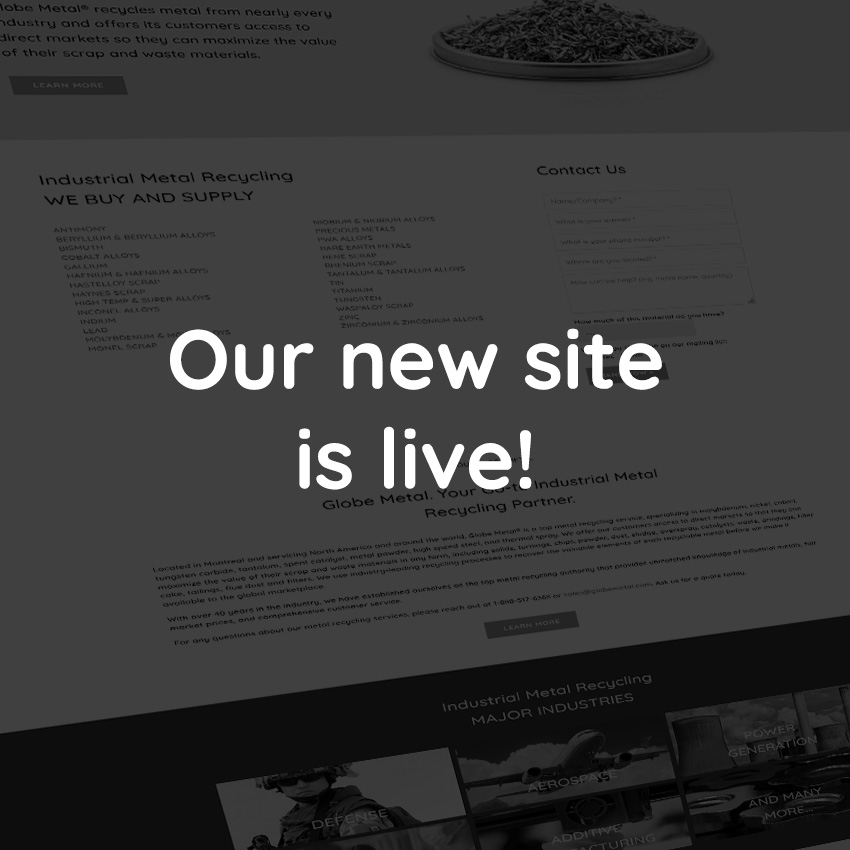 If you've been around here for a while, you may have noticed that we've recently launched an updated website!
Globe Metal has grown from our humble beginnings and with our continued growth globally, we felt it was time for an updated, more robust website to match the direction the company continues to head in.
What's New?
Metals Globe Metal Buys and Recycles
For starters, we've added even more metals to our extensive metal directory, so you'll see metals you're familiar with as well as some new ones:
Molybdenum
Nickel
Tungsten
Cobalt
Hafnium and Hafnium Alloys – New!
Rhenium Scrap – New!
Waspaloy Scrap – New!
Beryllium and Beryllium Alloys – New!
Zirconium & Zirconium Alloys – New!
Inconel Alloys – New!
Niobium and Niobium Alloys – New!
And more!
It's important to us to highlight not only the major metals, but metals we buy and recycle with partners around the world.
Industries Globe Metal Works With
We've also updated our list of industries we serve. We buy and sell metal from the Nuclear, Defense, Medical, and Oil & Gas industries – in addition, of course, to those we've always highlighted on our website: Thin Film Coating, Additive Manufacturing, Aerospace, Mining, and Power Generation.
More Information to Serve You Better
We've also updated the information that was on our site, and added more content, in order to better serve you. You can learn more about Globe Metal, our Leadership Team and the company's history – but you can also see what we're doing to help the environment, buying and selling of course but also doing our part to ensure as many metals as possible enter the circular economy.
We're excited to launch this new website, a symbolic demonstration of the direction Globe Metal is expanding in.
If you have any questions about buying and selling metal or more general questions about Globe Metal, please feel free to contact us.