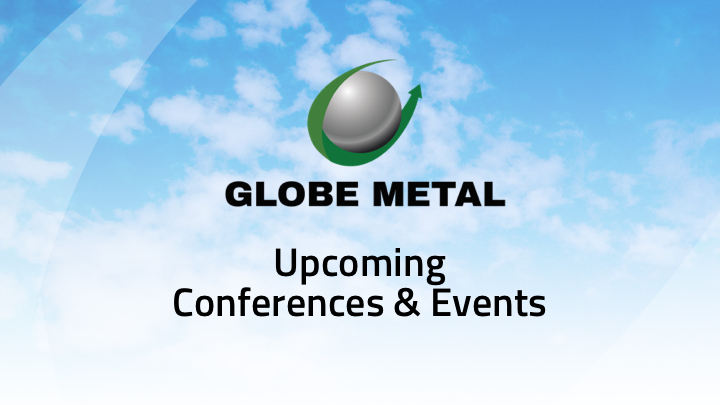 Fresh off of our successful trip down to Atlanta for MRO Americas, we thought it would be worthwhile to share our upcoming schedule with you. Over the next few months, Globe Metal will be sending our team members to the following trade shows and events:
The Offshore Technology Conference (OTC)
May 6-9
Houston, TX
The Offshore Technology Conference (OTC) is where energy professionals meet to exchange ideas and opinions to advance scientific and technical knowledge for offshore resources and environmental matters. The conference is celebrating 50 years. Globe Metal will be out there in full force and bringing along our new booth as well.
Waste Expo
Las Vegas
May 5-8
Whether you are from the private sector, a small, medium or large public sector waste management company, organics management, or food waste management company, or a manufacturer or supplier from the U.S. or abroad, count on WasteExpo to bring the entire industry together under one roof.
Rapid
May 20-23
Detroit, MI
RAPID + TCT has been produced by SME since its inception nearly 30 years ago as an additive manufacturing conference and exposition. The two leaders in additive manufacturing, SME and owner of the TCT Group, Rapid News Publications, joined forces in 2016 to produce the RAPID + TCT event, combining decades of 3D technology insights and experience.
Metal Recycling Short Course
June 18-20
Indianapolis, Indiana
This conference will focus on industry practices currently in use to convert metal-containing materials to products. Processors, raw materials producers, and marketers will all be invited to attend. A call for speakers has been issued and we are seeking individual and group presenters to share their experiences and approaches to recycling metals and associated materials. Particular emphasis will be given to combinations of metallurgical processing, metal tailings recovery, and battery recycling to facilitate economical recycling. The presentations anticipated will focus on plant operations, and there will be ample opportunity for interaction by the participants.
Powdermet
June 23-26
Phoenix, AZ
This is the leading North American technical conference on powder metallurgy and particulate materials. In fact, POWDERMET2019 is a hub for technology transfer for professionals from every part of the industry, including buyers and specifiers of metal powders, tooling and compacting presses, sintering furnaces, furnace belts, powder handling and blending equipment, quality-control and automation equipment, particle-size and powder-characterization equipment, consulting and research services, and much, much more.
Globe Metal's own Brendon Chrus and Josh Lifshitz will be presenting.
If you have any questions about your metal recycling needs and want to benefit from our expertise, give us a call at 1-800-700-6382 or email us at sales@globemetal.com.