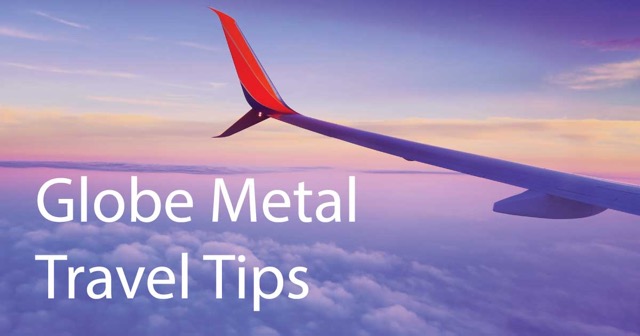 As summer comes to an end, and with Mine Expo 2016 & CRU Ryan's Notes conferences coming up, many of our buyers are getting ready to hit the road. At the best of times business travel can be an exhilarating mix of seeing new places, putting faces to the names that you work with everyday and creating opportunities that are nearly impossible through email or over the phone. In the worst of times, it can be endless small talk, fast food and running through airports.
Because we believe minor changes can be the difference between a great trip and a headache, we've asked our buyers for their best travel tips to ensure your trips run smoothly and efficiently. Here are our top 5:
"Spend an extra 20-30 minutes researching your destination before heading out. Knowing the location of your meeting, a pharmacy and a good restaurant in relation to your hotel is going to present fewer surprises and more enjoyable time. — Ricardo Martinez
"Print out your reservations and photocopy your travel documents, if your cellphone dies or you loose your wallet it's going to save you a lot of time and headache." — Brad Solomon, (Attending Mine Expo 2016)
"Keep wet wipes in your carry on; besides cleaning up spills they are a great way to wash your face and look less road weary when running between meetings or after getting off a long flight. They've also saved me in Asia and South America where toilet paper in washrooms is non-existent." — Brendon Chrus, Account Manager
"Board the plane Last, if you're spending a lot of time on the road, your likely sitting a lot. You will feel more energized if you spend the last few minutes before boarding, walking around on the phone with your wife or touching base with the office. Added benefit, you can sometimes choose your own seat." — Ryan Solomon, President (just arrived from a busy few weeks of travel in the Midwest, Southern US and Ontario)
"If you're attending a conference, it's always better to organize as many meetings as possible before hand. If you arrive and just expect that you're going to end up bumping into people on the show floor, you're going to miss out. Getting out of the office is important but if you don't have a game plan the opportunity will be lost." — Jeff Solomon, CEO (Attending Mine Expo 2016)
Have any other tips? We'd love to hear them. If you'd like to schedule a time to meet one of our salesmen, find their contact here.