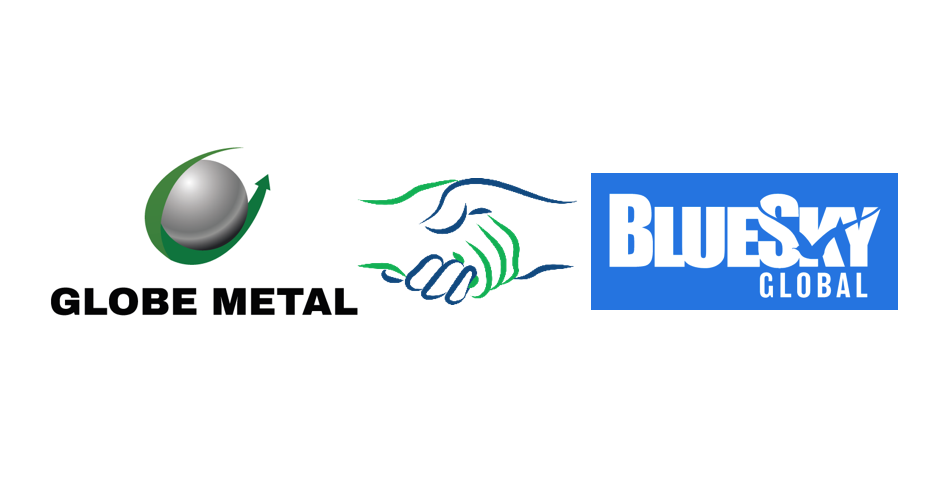 The companies form a powerful one-two punch to safely filter, collect and recycle metal powders.
Contaminated cartridge-type dust collectors may pose serious health and environmental risks. To mitigate these serious risks, systems need to be deployed that eliminate the need to open the dust collection chambers, and importantly, remove the need to handle individual contaminated filters. That's where Bluesky Global and Globe Metal come in.
The BlueSky system uses completely contained housing where the dust and filters remain fully encapsulated and the filled capture unit (SmartBox) is wholly removed for recycling or safe disposal.
"BlueSky has pioneered a completely new concept in industrial dust collecting. Our approach radically changes how hazardous dust is handled across a wide swath of industries. It protects workers against respiratory illnesses, and shields industries from lawsuits stemming from those afflictions," says, Michael W. Seitz.
Globe Metal is perfectly positioned to take over from the point of collection. With over 40 years of experience handling tough industrial recycling projects, ISO-certified Globe Metal will offer competitive pricing and seamless transportation of the BlueSky SmartBoxes that contain captured dust and used dust filters.
"An association with BlueSky Global plays right into our strengths," says Doug Veitch, Chief Operating Officer of Globe Metal. "Our experience with metals of all different forms make us the right choice to handle these materials and find ways to give them new life."
The two companies will be presenting back-to-back at Powdermet 2019 in Session 23. Michael W. Seitz from BlueSky Global will be presenting a session titled, "Contaminated Cartridge-Type Dust Collectors May Pose Serious Health and Environmental Risks." Immediately following, Josh Lifshitz and Brendon Chrus will deliver Globe Metal's session, which is titled, "Metal Powder Recycling—Closing the Loop on Sustainability." The BlueSky session will take place at 11 am, while the Globe Metal session will take place at 11:25.
To learn more about these sessions, please visit the conference website.
Contact Information:
Dr. Michael Seitz
dr.michael.seitz@npinnovationsgroup.com
1-346-774-5122
Brendon Chrus & Josh Lifshitz
Email: brendon@globemetal.com; josh@globemetal.com
Office: (450) 635-9397
Toll free: (800) 700-6382
Read about Brendon Chrus
About BlueSky Global
BlueSky® Global LLC is currently the only company in the world that manufactures and distributes patented* Industrial Air Cleaning Systems that are both mobile and customizable. Because of the worldwide trend of tightening environmental laws, this patented* solution has been hailed as the most practical and cost-effective on the market today.
About Globe Metal
Located in Montreal and servicing North America and around the world, Globe Metal is a worldwide leader in industrial scrap metal recycling, specializing in tungsten carbide, high-speed steel, molybdenum, cobalt, nickel, tantalum, metal powder and thermal spray.